BadAorta: A Deep Dive Into Aortic Disease, It's Treatment And The Latest Research: Volume One: Aortic Dissections
From an experienced Heart Surgeon and author of Risk Factors For Developing Aortic Disease: A Tool For Patients and Physicians comes a breakthrough book that pulls back the curtains like never before on one of the most challenging heart problems known to Medicine – Aortic Dissections.
The art and science of aortic disease.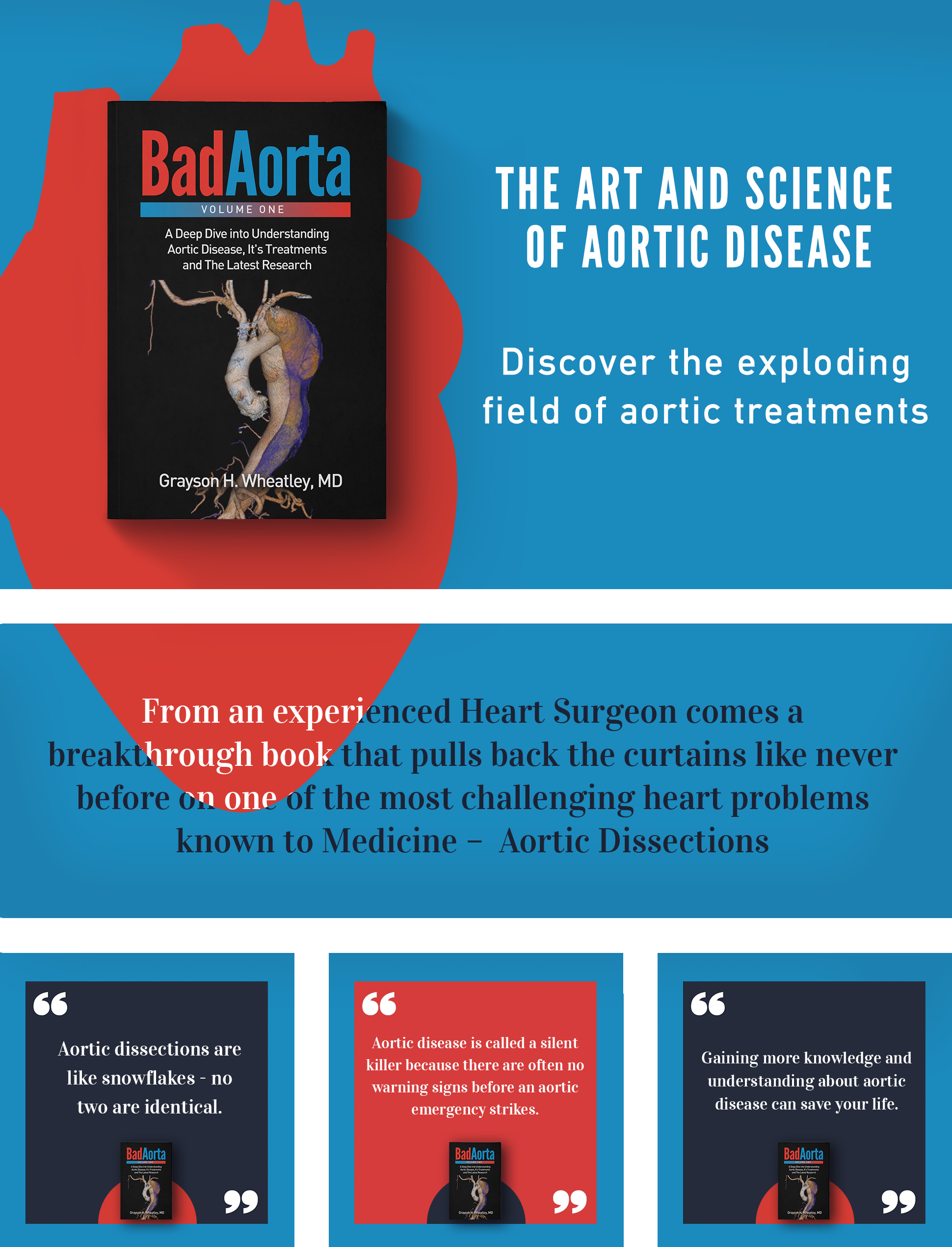 Many years ago, I experienced an "aha" moment.
After over a decade of taking care of patients, I had an epiphany that a "voice" was missing from the conversations that patients and surgeons were having daily about the difficult choices involved with managing complex diseases of the aorta.
The missing voice was clear, concise, and easy-to-understand information about the anatomy of the aorta, the different types of aortic problems that develop, and the available treatment options. It is not a poor reflection of patients' ability to understand the information, nor is it a judgment on how surgeons discuss aortic problems with their patients.
Instead, my insight into how to bridge the communication gap between patient and surgeon regarding managing complex aortic diseases is an honest recognition of the "nature of the beast."
My mission from that point forward was to assist patients with understanding the complexities of aortic disease so that they could make more informed (and better) decisions about their treatment decisions.
As a result, I started badaorta.com as a place where I could discuss topics that patients with aortic disease frequently encounter. However, it has evolved into a more extensive library and discussion of information related to the aorta.
This book updates and expands on a few of the "Top 10" blog posts from my website.
Several new chapters have been added covering topics not addressed on my website.
This book represents a step forward.
First, it expands upon the information I generated several years ago to help patients.
Second, it is the first volume of books covering important information and research regarding the aorta.
Learn the differences between an acute aortic dissection and a chronic aortic dissection

Find out if the month of the year affects your chances of surviving an aortic dissection
The field of aortic disease and aortic treatments is exploding with new information about the processes that contribute to the development of aortic disease and new breakthroughs in less-invasive treatments.
Stay abreast of the rapidly changing field of aortic disease and gain invaluable insights about aortic dissections from an expert.
Was this post informative?
Subscribe to my newsletter to learn more about the aorta, its diseases, and how to treat them.
Comments
Share your thoughts below — I try to get back to as many comments as possible.